Overview
Elis has developed a specialised laundry service to cater for the unique needs of Irish Nursing Homes, providing customised services including residents' clothing. We understand that you require a laundry service for your residents possessions that provides the same level of care as if they were laundered at home but to a consistent standard of compliance required by HIQA. In addition, we can also provide bed and bath linens, workwear for your staff, washroom and pest control solutions.
Our rental maintenance model
Thanks to our bespoke solutions, we allow you to focus on your core business, while keeping an eye on your budget.
Your needs assessed by our experts

We assess your needs in advance so we can offer you bespoke solutions.

Purchase and storage of your items by Elis

Because you do not have the time to manage your teams' clothing and linen, we take charge of their purchase and storage.

Laundering of your items

Quality checks are made at every stage of the cleaning process at specialised facilities.

Regular pickup and delivery

We tailor our services to your pace and your preferences.
Nursing homes rental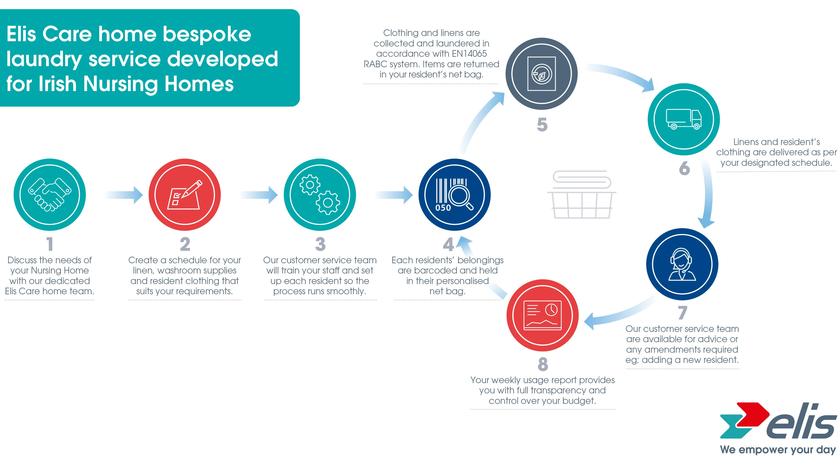 Our nursing homes service
/

Personalised laundry service for residents

Our personalised laundry service has been developed to provide you with full traceability; each resident is assigned a unique code which is applied to all their belongings, ensuring residents' possessions are kept together and traceable. Service frequency is dictated by your requirements supported by our nationwide distribution network. Your weekly usage report provides a full overview of our service, ensuring you are always in control.

/

A full range of linens and workwear to suit your needs

We understand you want your residents to feel "right at home", our linen offer is dependable and practical. Bathroom towels, bedroom blankets or sheets, tablecloths, napkins; chefs jacks, aprons and tea towels for kitchen staff; workwear for your caregivers and nurses. Elis can assist with every element you require for your nursing home.

/

Highest hygiene standards

The linen handling protocol for nursing homes meets the RABC standard. To avoid bio-contamination, we examine microbiological risks and follow the principle of "forward flow". All our sites are independently audited by the NSAI and ISO 9001 certified and NF EN 14065 standards installed.