Elis have developed a specialised laundry service to cater for the unique needs of Irish Nursing and Care Homes that require a customised laundry service suitable for residents' clothing. Findings from research conducted in 2011 indicated that management of laundering bed linen, towels and the personal items of residents was diverting energies of staff from their key role; that of caring for residents.
Our dedicated units service the entire country and allow for full traceability as each item is barcoded, professionally laundered, tracked and returned to its owner in a timely fashion. We train all staff members to ensure there is a full understanding of the procedures and our customer service team are always available to answer any queries.
All Elis sites are independently audited to ISO 9000:2015 and I.S EN 14064:2000 standards by the NSAI, providing assurance that we meet all infection control standards.
We continue to investigate, develop and provide innovations for textile, hygiene and well-being sectors. We appreciate the specific requirements within the Nursing Home and Community Care sectors and are ready to provide tailored solutions to ensure best results. Our recent investment in a new fleet of trucks demonstrates our commitment to our customers and will bring additional efficiencies to our network. Our services allow you to focus on your core business, with full transparency through your weekly usage reports.
To learn more about what we can do for your business, please call 087 985 2182.
Our care homes process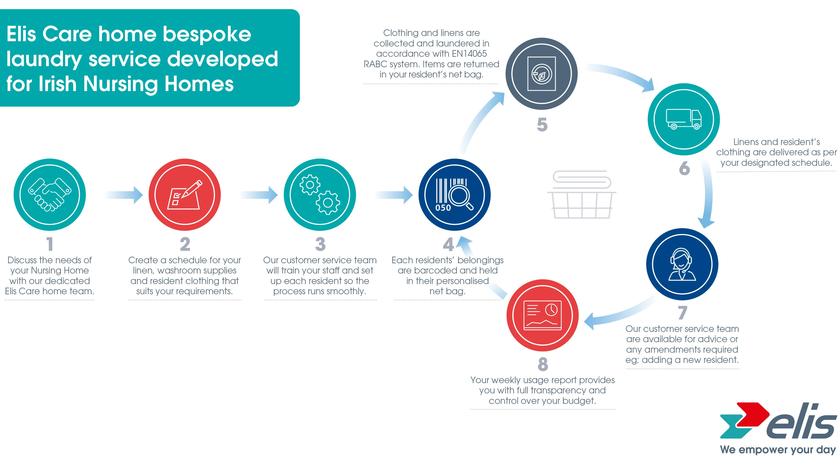 Discover more about our care homes service