Elis Cleanroom is a leader in reusable cleanroom garments, cleaning systems and related contamination control solutions. Our laundry facilities, based in Cork and Offaly, are fully validated; ISO Class 4 (at rest) with onsite sterilisation services. Our co-locations offer customers unrivalled contingency opportunities within the island of Ireland in addition to the support of 28 cleanrooms across the globe.
Our Cleanroom solutions include sterile garment rental, mats, sterile goggles and mops suitable for Grade A/B environments in addition to a complete range of garments for Grade C, D & CNC including coveralls, socks, scrub suits, non-shedding lab coats, mops, and re-usable autoclave bags. All products come with inbuilt track and trace technology to allow for stock tracking.
There can be no compromises when looking for a contamination control partner for all your cleanroom needs; our dedicated team are there to support you throughout the process, offering regular training sessions, webinars covering issues facing the cleanroom industry and full transparency of our methods and operations via our dedicated YouTube channel.
Elis cleanroom service process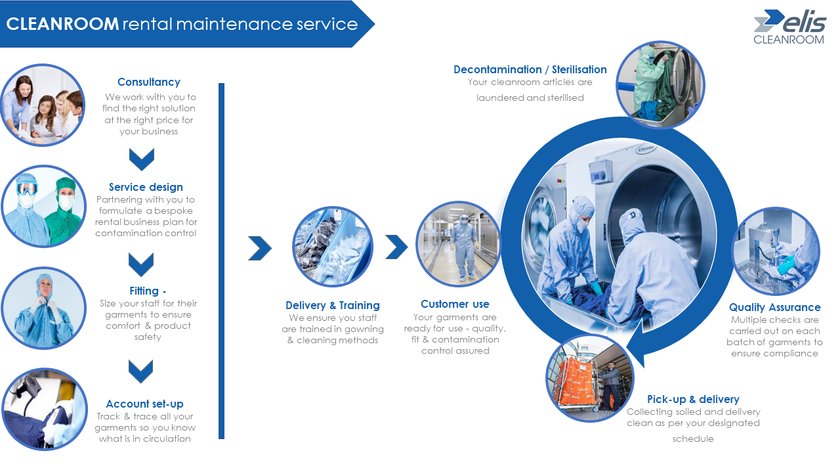 FAQs
How does the Elis Cleanroom service operate?

Our dedicated Cleanroom team will work with you to identify your business's needs, providing recommendations on which cleanroom garments are most suitable. Each garment has inbuilt track and trace technology, enabling you to track your garments at any time via our online portal. At Elis we do not use agency drivers, all our service agents are direct employees. Your dedicated driver collects garments as per your desired schedule. They will be processed, inspected and if necessary, repaired or replaced at our dedicated cleanroom facility and then returned to you. You can rest assured that all garments always comply with the appropriate standards.

Buying or renting a cleanroom garment – what is the difference?

With the Elis' rental maintenance service model, you pay a fixed weekly amount which includes cleaning and repairs. We also provide access to your own pool of cleanroom garments with no upfront costs. This means that your cleanroom garments will not be used by others.

When buying cleanroom fabric, you will be making a large investment and will take care of your own stocking. Laundering prices are not included. We are happy to provide you with a price comparison based on your needs.

What fabric are clean room garments made from?

Depending on the work environment, we mainly use polyester fabric, with the additional options of carbon or cotton. Polyester is an excellent barrier against particles, it retains colour and has little shrinkage. Carbon is a fibre that ensures your clothing is anti-static, and cotton absorbs moisture, is warm and breathable. These materials perform well in cleanrooms, remaining in good condition throughout our washing processes.

How do you ensure that garments continue to meet official requirements?

We perform daily measurements of particles in the cleanroom garments, and thanks to this quality monitoring, we can determine whether the fabric should be replaced. Should you observe any abnormality, then you should deliver the garments in a service bag so that we can take immediate action upon the arrival of the apparel.

How can I be confident that I have enough garments and I am not paying too much?

Your dedicated account manager will discuss your needs with you, advising on how many garments you might need. We are flexible, and any changes taking place in your workforce may be reported through the online portal. Furthermore, the manager will facilitate the rotation of your garments to maintain optimum use.

How are deliveries arranged?

Based on the agreed rate of delivery, your account manager will inform you on which day(s) your cleanroom garments will be delivered and where they will be placed. You regular driver will deliver your garments on this same day every week.

From time of ordering, how long does installation take? Is there a minimum order value?

Our dedicated Cleanroom team will work with you to choose the articles best suited to your business. Should your chosen stock be available and need no adjustment, you can start using them in a few weeks. We can also provide a temporary attire pool if required. There is no minimum order value.

How are cleanroom articles processed and how is this validated?

The cleanroom laundry process aims to remove all particles and to preserve the specific properties of the weave in the cleanroom garments. The processes ensure that the specific functions such as air and particle barrier, particle release and electrical conductivity are retained, thus allowing the cleanroom garments to be worn in different cleanroom areas ranging from ISO 5 to ISO 8 according to EN ISO 14644 standards. We validate our washing process annually through a swab test and DES-controller tests take place daily.

What tests are carried out on cleanroom garments?

A number of garments from each batch are tested using the Helmke Drum Method (IEST-RP-CC003.4). We also take bacterial samples of the cleanroom garments. These are tested in our laboratory. If you use ESD clothing, it is also possible to have your clothes go through the ESD tests according to 61340-5-1. In addition, a number of DES-controller tests are performed daily to ensure that our wash water meets the prescribed conditions.
Gowning with the Alaska Coverall
/

Consultancy

We work with you to build a profile of your business so that our Cleanroom specialists can identify and provide recommendations on which cleanroom articles are most suitable for your business.

/

Multiple Applications

We offer a wide range of garments and accessories including coveralls, goggles, autoclave bags, flexi mats and cleaning tools.

/

Full Service

At Elis Cleanroom we provide you with a full rental maintenance service; from the purchasing of stock, processing, sterilisation, maintenance and repair of all your articles, all collected and delivered to your facility at the agreed rate of delivery determined by your requirements.

/

Customer Security

With over 40 years Cleanroom experience, we are the leader in reusable clean room garments, cleaning systems, goggles and related contamination-controlled solutions. We are dedicated to QA testing with a focus on LEAN and the continuous monitoring and improvement of our cleaning plants.

/

Innovation and Validation

There can be no compromises when seeking a contamination control partner. We are continuously investing to innovate and improve our services, providing you with modern and effective solutions that maximise contamination control in your cleanrooms.

/

Staff Training

We are here as your contamination control partner and are happy to offer training for your staff, provide regular webinars and informative 'How to' videos.