Whether you work in hospitality, catering, healthcare or the service industry, we understand how the cleanliness and quality of your linen plays an important part in the quality of the service you provide.
Here at Elis, we supply a wide range of linen specifically tailored to your business needs. Whether you need sheets, duvet covers, bath towels, spa robes or tablecloths, our teams provide impeccable care for linen. We can advise on optimum stock levels for your needs and our flexibility means that no matter the size of your establishment, we can cater to your requirements.
We have a customised linen service available, with colours and sizes to suit you. At Elis we understand that your requirements are constantly changing and you need flexibility and support from your suppliers which is why we have developed the Elis CONNECT Linen App. The App allows you to place orders up to 5 days advance, review your previous orders and even book in returns – to learn more why not check out our video below.
/

The right linen for your business

You want to offer your customers the best possible service and ensure your patients' well-being. As a trusted partner, we supply a range of products to meet your specific requirements: bed linen (sheets, pillowcases and duvet covers), kitchen linen (towels, wipers and aprons) and kitchen linen (napkins and tablecloths), bath linen (towels, bathrobes and mats), and linen for the healthcare professions (sheets, draw sheets, covers, blankets, patient gowns and bathroom linen). Simply choose the collection best suited to your establishment's needs.

/

Peace of mind

Your day-to-day focus has to be your core business and providing your customers or residents with optimum service. We offer bespoke solutions to support you in this. We tailor our service to your requirements (timings, storage, quantities, vehicle type and packaging) and deliver clean linen, on time to your facility.

/

A high-performance industrial process

Here at Elis, our linen cleaning and disinfection conditions guarantee optimum hygiene. Quality checks are carried out at each stage of the washing process: check on arrival, calendering (drying, ironing and folding) and preparation for dispatch. This means that when stains, tears or other wear marks are noted on a given item, it is discarded. Some of this discarded linen is given a new lease of life in the form of rags for industry. Lastly, we also ensure that we are mindful of water, energy and detergent consumption within our factories.
Flat linen rental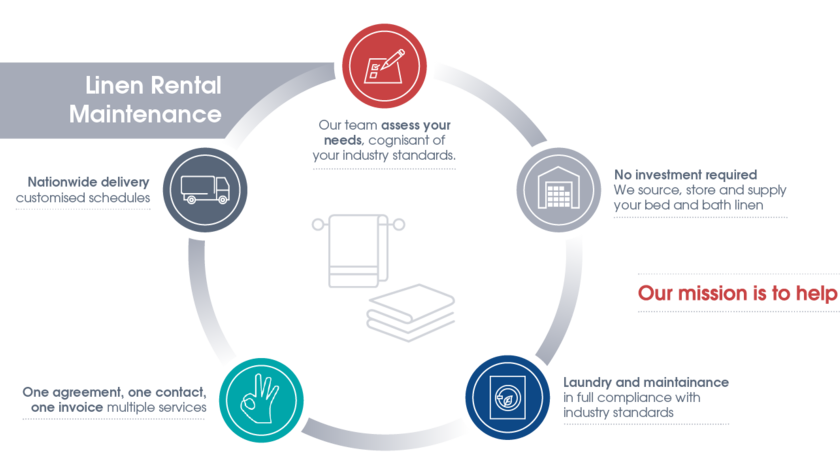 Advice Do's
Make sure linen rooms are kept neat and tidy
Place all dirty linen from bedrooms directly into Elis bags
Make sure toweling rags are in use for drying floors, sinks and taps
Use polishing cloths or glass napkins for mirrors etc.
Use door stoppers
Use dusters or glass napkins for skirting boards and edges
Use mops or rag towels to clean floors
Use rags for spillages etc.
Advice Don'ts
DO NOT leave linen on the floor
DO NOT leave dirty linen on floors or corridors
DO NOT use our towels for cleaning. EVER
DO NOT use pillow cases for polishing
DO NOT use our towels as door stoppers
DO NOT use face towels for dusting /cleaning
DO NOT use our towels to clean floors
DO NOT use Elis laundry linen for spillages etc.
Kitchen/Bar/Banqueting Do's
Make all staff aware of where to find cleaning cloths
Provide proper cloths for serving of beverages and food
Have kitchen cloths in place for chef's use
Make sure polishing cloths are in the correct areas for cutlery, etc
Use towelling rags for floor spillages, etc
Use rags for the underneath of sinks or bar trays
Store linen correct as this will keep the linen looking nice on tables
Kitchen/Bar/Banqueting Don'ts
DO NOT pick up the nearest linen item to clean with
DO NOT use napkins/towels or table cloths for covering trays or trolleys
DO NOT use our linen for wiping down counters or floors. EVER
DO NOT use napkins for polishing
DO NOT use the linen or towels for cleaning floors
DO NOT use our towels/napkins to cover areas or leakages
DO NOT leave linen rooms untidy as this causes creases
 
 
The linen we provide is for your customers to use and enjoy. Should you require additional cleaning cloths or mops, please let us know and this request can be facilitated.