Elis Pest Control provides complete preventative and curative pest control solutions for rodents, insects and designated wildlife, adapted to your business' needs. We are committed to providing you with the very best service using innovative pest control solutions including our PG IR online system which provides real time reporting and pest trend analysis. With nationwide coverage supported by seven hubs across the country, you can be assured we will be there when you need us.
Our accredited systems are provided on a rental service basis with no upfront investment required. This ensures that you can choose the equipment and service model that suits your business best without budgetary constraints. We offer a complete prevention and control service that provides systematic traceability for all rodent, insect and wildlife issues.
Why not call us and request a free site audit on 1800 262 363.
/

Pest Control – Do You Need It?

Pest management is an essential service for business - ensuring the health and well-being of your staff and customers as pests can carry dangerous germs and contaminate your environment; protecting inventory, equipment and the structural integrity of your premises as pests can eat through electrical cables, contaminate stock and even chew through walls; protecting the brand reputation that you have cultivated over time, a single social media post can generate irrevocable damage.  As a business, you have a legal requirement to manage your pest control issues and we are here to assist with expert advice and solutions.

/

A Solution For Every Need

Regardless of the type of pest that you wish to prevent or eliminate, here at Elis we have a dedicated solution; control for crawling insects including cockroaches, ants, fleas and bedbugs; solutions for flying insects such as flies and wasps; controls for rodents; disinfection services to eliminate pathogens, viruses and bacteria.

/

How We Work

We begin with a full audit of your premises to identify the issue and assess the root causes. Then we formulate a service plan. Once agreed, your premises will be mapped and service stations uploaded onto your site map. Our portals will allow you to review each service and review any activity noted at any time.

/

Expertise

Regardless of the type of service selected, we guarantee regular monitoring at agreed  intervals conducted by our expert technicians. We are a proud member of the IPCA (Irish Pest Control Association) and are committed to providing a professional service and abiding by the highest proficiency standards. As an affiliate of CRRU (Campaign for Responsible Rodenticide Use), we promote responsible rodent control while protecting wildlife from rodenticide use. We are members of the BPCA and are CEPA Certified®, the European standard for professional pest management companies which provides a benchmark of quality and uniformity of service which is vital for risk management in this global marketplace.
Pest control rental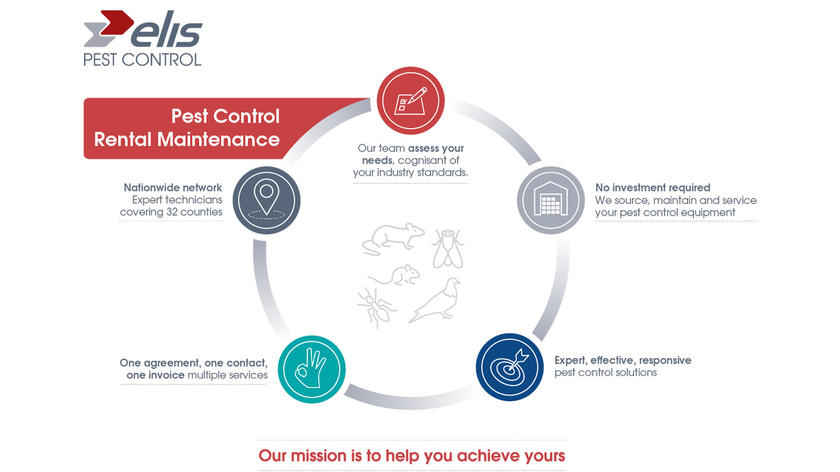 Memberships